Thousand Helmet: Heritage Gold
or 6 weekly interest free payments of NZD $33.16 with
Or 10 Interest free payments from
$19.90
with
What's this?
Vintage Moto meets modern minimal. Thousand helmets feature a rubberised matte finish, a moto trim and magnetic locking. Clean, intuitive design with playful features, and above all, protective. The Secret PopLock (patent pending) is an easy and safe way to lock your helmet to your bike. Thousand use green alternatives, track their materials to their origins, and only work with manufacturers who meet their ethical standards.
• Lightweight helmet at 410g (S), 450g (M) or 490g (L).
• Includes two sets of interior padding for a custom fit.
• If between sizes, we recommend the smaller size.
• Small (54-57cm), Medium (57-59cm), Large (59-62cm)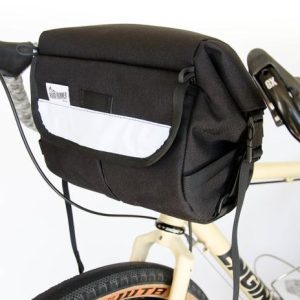 All Products, Bike Accessories, Bags
It's Jammer time! A unique high volume, rackless, universal handlebar/saddle bag. This bag is perfect for city commuting/road touring/dirt bike packing or casual beach rides - load it up with the essentials and have plenty of room for more gear. This bag was designed for cyclists by cyclists! It is easy use, fun to ride with and a treat when you need it; forget your bike is loaded down with the help of the Jammer! Lightweight, durable and water resistant!
There are two external expanding front pockets with a flap lid. The lid has a 2" strip of 3M reflective and a blinky light loop directly above. This bag was made for either front (for dirt) or rear (for road) use and will accommodate a variety of bikes, handle bars and different riding styles. The closure straps (C.W.S.) were designed to give adjustable positions for the optimal weight to tension ratio. You can load this pup up and really cinch it down to create a stiff and compact bag with minimal sway or sag when mounted appropriately. The bag has an internal structure to give form and an internal stiffener which will not bend or break. We designed this bag to open up new options on how your gear is carried, don't be afraid to get creative and try to mounting techniques!
When fully expanded the Jammer will reach up to 11L in volume and can be rolled down to more than half of that. Not big enough for you? When using this bag on the rear for road use, note that the bag mounts to the Saddle Loops. If your existing saddle does not have the Saddle Loops then please refer to the Roadrunner website blog post. Use the 550 parachute cord loops at the top to attach with our Universal Shoulder Strap. Carry it off of the bike with ease and style!
This product, like all Road Runner products, is 100% vegan and crafted with the finest USA made materials and hardware. No animals were harmed during the making of this bag."
$

295.00