Giro: DND Cinelli Gloves Black
or 6 weekly interest free payments of NZD $16.50 with
Or 10 Interest free payments from
$9.90
with
What's this?
The Giro DND™ (Down And Dirty) glove offers exceptional fit, durability, and grip. The glove provides a supple feel on the bars thanks to the Super Fit™ engineered AX Suede™ palm that eliminates excess material and bunching, with a breathable, 4-way stretch upper for maximum comfort. Affordable and durable, we added the Cinelli-C logo in reflective ink for added visibility.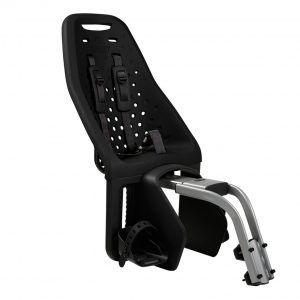 All Products, Bike Accessories, Child Seats
The Bicycle Child Seat Thule Yepp Maxi EasyFit is a safe and comfortable seat suitable for children from 9 months of age. It can be easily attached to rear racks with the EasyFit hole or to any rack using an adaptor or your bicycle seatpost. This child seat goes right behind the seat. Thanks to the adjustable footrests and shoe straps, this seat grows together with your child. Moreover, its 22kg weight limit makes the seat suitable for 6-year-old children. The five-point seat belt, which can easily be adjusted to the child's height, provides maximum safety. Moreover, the seat belt comes with a buckle, thus making sure the child will not fall out of the seat during the ride. The reflector and light holder improve the visibility of the bike in low light conditions. This seat was designed to make your child comfortable. The soft material the seat is made of is shock absorbent and water-repellent, making it easy to keep it clean and dry. Intended for the little travelers, the Bicycle Child Seat Thule Yepp Maxi EasyFit is perfect for families with active lifestyles.
$

339.00