Road Runner: Wedge Full Frame Bag
or 6 weekly interest free payments of NZD $39.16 with
Or 10 Interest free payments from
$23.50
with
What's this?
The Mountain Bike Wedge Full Frame Bag! Perfect for all day use and extended weekend trips. This bag was made to work with the majority of rigid and hard tail Mountain Bike frames and will accommodate a water bottle cage on the seat tube on medium and large frames. The MTB Wedge is great for bike touring, bike packing and any other type of longer riding where more space is needed. Holds ~2L bladder, tools, flat kit, food, gloves and an extra few packable layers with ease.
With the additional non-drive side zipper sleeve pocket, you'll be able to keep your belongings organized and easily accessible for when you really need them.
Fits on most MTBs in your stable with the multi-point mounting system and the extra long mounting straps.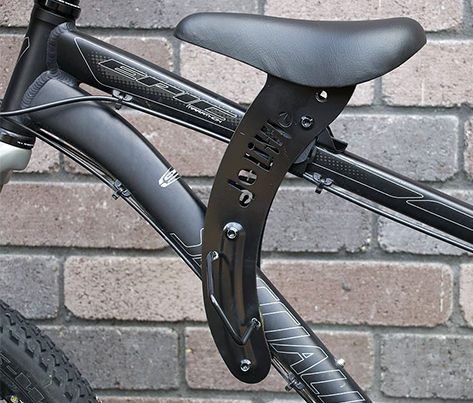 All Products, Bike Accessories, Child Seats, Saddles
Take your child along for the ride of their life on this New Zealand Designed and Made Mid Mounted Do Little bike seat. This robust, comfortable and safe child bike seat can be quickly secured to the seat tube of most bikes. This clever design ensures that your child feels safe between your legs and gets a great view whilst holding onto the centre section of your handlebars.
Designed for 18 months to 7 years of age, the Do Little bike seat lets you share the enthusiasm of riding a bicycle with your wee loved one and gets them excited about cycling at an early age. This centre-mounted kids bike seat fits onto most bikes in minutes with no special tools or skills required.
You will need the LOW RIDER fitting If you have a downhill mountain bike, a bike with an extreme sloping top tube or a wider top tube of up to 49mm. The first on the market of its kind. Allowing our bike seat to fit 99% of mountain bikes. If not we stand by our money back guarantee. The Low Rider fitting can be added with your Do Little or is sold separately in store.
The Do Little kids bike seat has the highest certified weight capacity of all similar mid mounted products on the market. With their experience and years of design development Do Little have ensured their product is the best value for money on the market.
$

170.00