NCM Moscow Electric Mountain Bike
or 6 weekly interest free payments of NZD $316.50 with
Installments available between
$20
-
$1,500
with
What's this?
Want to get on board the electric bike 'train' but on a budget? NCM's Moscow and Moscow Plus 48V e-bikes offer impressive power thoughtfully put together in a basic but sharp-looking bike. With two sizes (27.5 and 29″) and two colours.
Founded in 2014, NCM Bikes have quickly become one of the largest Pedelec (Pedal Electric Cycle) and e-bike brands in Europe with the goals of expanding across multinational markets. NCM is the perfect brand to embark on your Pedelec experience, other you are an avid cyclist or a newcomer.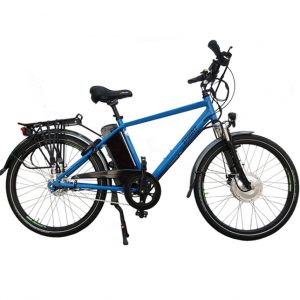 All Products, Electric Bikes
The eZee Sprint makes choosing an electric bike easy. Unmatched value and performance, perfect comfort and balance, high quality and low maintenance components make for an unbeatable workhorse – one of the few truly fit for purpose e-bikes out there! The eZee Sprint is an all-rounder city bike for both Men and Women.
The eZee Sprint is a perfect all-rounder electric bicycle. With a comfortable frame geometry providing an upright sitting position and plenty of user-friendly features, this bicycle will make cycle commuting, shopping and city riding hassle free. The robust compact Shimano Nexus 7 hub gears and Schwalbe puncture-resistant tyres reduce maintenance problems and there will be no more recharging batteries for your bike lights on this ride! Equipped with centre mount double leg kick stand, mud guards, rear rack, speedometer and front and rear lights.
The Sprint is the star of the show, easily the best selling e-bike of them all. You'll see why when you test ride one – comfortable, practical, and just so good looking. It's got more than just comfort going for it – the Sprint is as reliable and robust as the rest of them. The eZee range is available with batteries up 1000Wh, unmatched in the e-bike world.
$

3,350.00