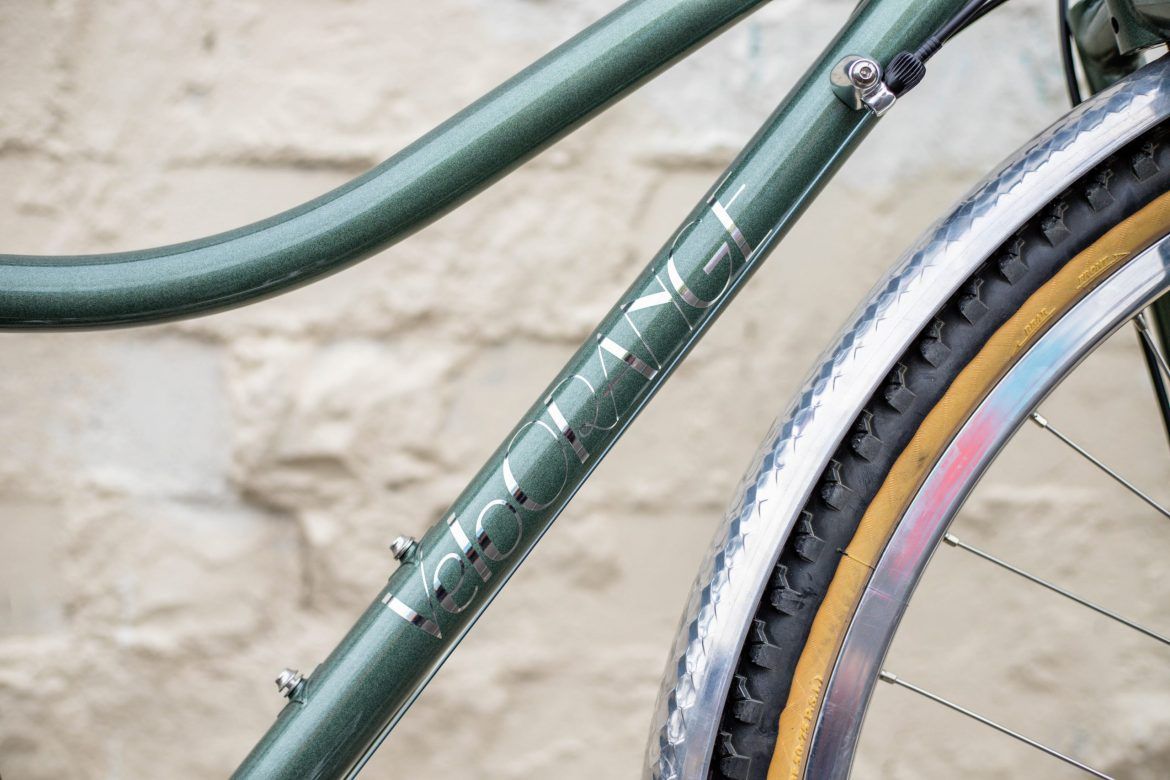 Fenders are being accredited as an 'accessory' to cycling like clothing is an accessory to getting around. Rainwater from above can be easily taken care of by appropriate weather gear, but wet grime and splash from the ground will require intensive clean-up. So if you prefer not to mar your sharp fashion style or increase your maintenance, a nice pair of fenders is what you need.
Velo Orange
VO Fenders are everything we love about the brand – making functional bike parts look classy. Waved, hammered, snake-skin fenders provide full protection from spray. Check out their guide on how to select fenders. https://velo-orange.com/pages/choosing-fenders
Best paired with: Your commuter or touring bike with frame braze-on or eyelets.
All Products, Components, Parts, Wheels

These fenders feature a classic hammered pattern and are available in high polished silver and smooth Noir. They're 45mm wide, designed for 700c and 27" wheels, and work with tires up to 35mm wide. We include a hardware kit to work with almost any type of mounting in the same finish as the fenders. Fenders are made from aluminum alloy for strength while staying lightweight Rear fender is 120cm long and the front is 90cm long Both come pre-drilled for stays. Front is pre-drilled for a fork crown mount Hardware kit includes: 5mm polished aluminum stays, R-clips and screws, L bracket, reinforcement plates, stay-to-fender closed eyelet bolts, fork crown daruma, sliding bracket, leather washers, and detailed installation instructions Velo Orange fenders are designed to be full coverage, which means that you and your bike's drivetrain will stay clean of road muck and grime. Both front and rear fenders have full wrap around the width of your tires to eliminate spray in all directions.

$

200.00
Sim-Works x Honjo
Handmade by experienced craftsmen since 1949, Honjo fenders from Tokyo are exquisitely made. They come in a smooth or hammered form and are made in a range of widths and profiles, Honjo fenders bring a touch of spiritualism into the material realm where everything these days is mass-produced and the human interaction far removed. Amazingly you can get full alloy fenders that will fit up to 2.5″ tyres!
Best paired with: Your commuter or touring bike with frame braze-on or eyelets.
All Products, Components, Fenders, Parts, Wheels

Honjo's hammered fenders with their beautiful "Kikko" patterns are well-known by so many cyclists around the world. Making the pattern is very much confidential and even we do not know how they achieve it. If you are looking for a genuine fender, then this "Turtle 35" is waiting for you. Wheel Size: 700c Tire Size: ~25mm U Stay: 4mm diam.

$

180.00 –

$

235.00
Note: Full fenders like those from Velo Orange and Sim-Works often require several mounting points on the bike's fork and the bike frame's rear stays and don't come with holes pre-drilled. The stays will also require cutting to length so best left to an experienced bike mechanic. The end result means you get a profile that's just right.
Brian Philips
Polycarbonate full fender sets from Brian Philips are light, durable, and affordable, with a quality finish in gloss black or silver.
Best paired with: Your commuter or touring bike
Semi-integrated half fenders use a clip-on to the seat tube and front fork so are good options for bikes that do not have eyelets and braze-ons.
Best paired with: Commuter, road, touring, and hardtail bikes
BBB
Mudcatcher II
A temporary fender often used with road bikes and others that have forks without clearance for fender installations on the fork or who desire protection on rainy days only.
Best paired with: Road and MTB
Grandprotect
Available as single units and easily installed and removed with a good amount of adjustability make the grandprotect fender series good for bikes with wide tyres, front and rear suspension or when a rear rack is not available or required.
Best paired with: Hardtail and full suspension