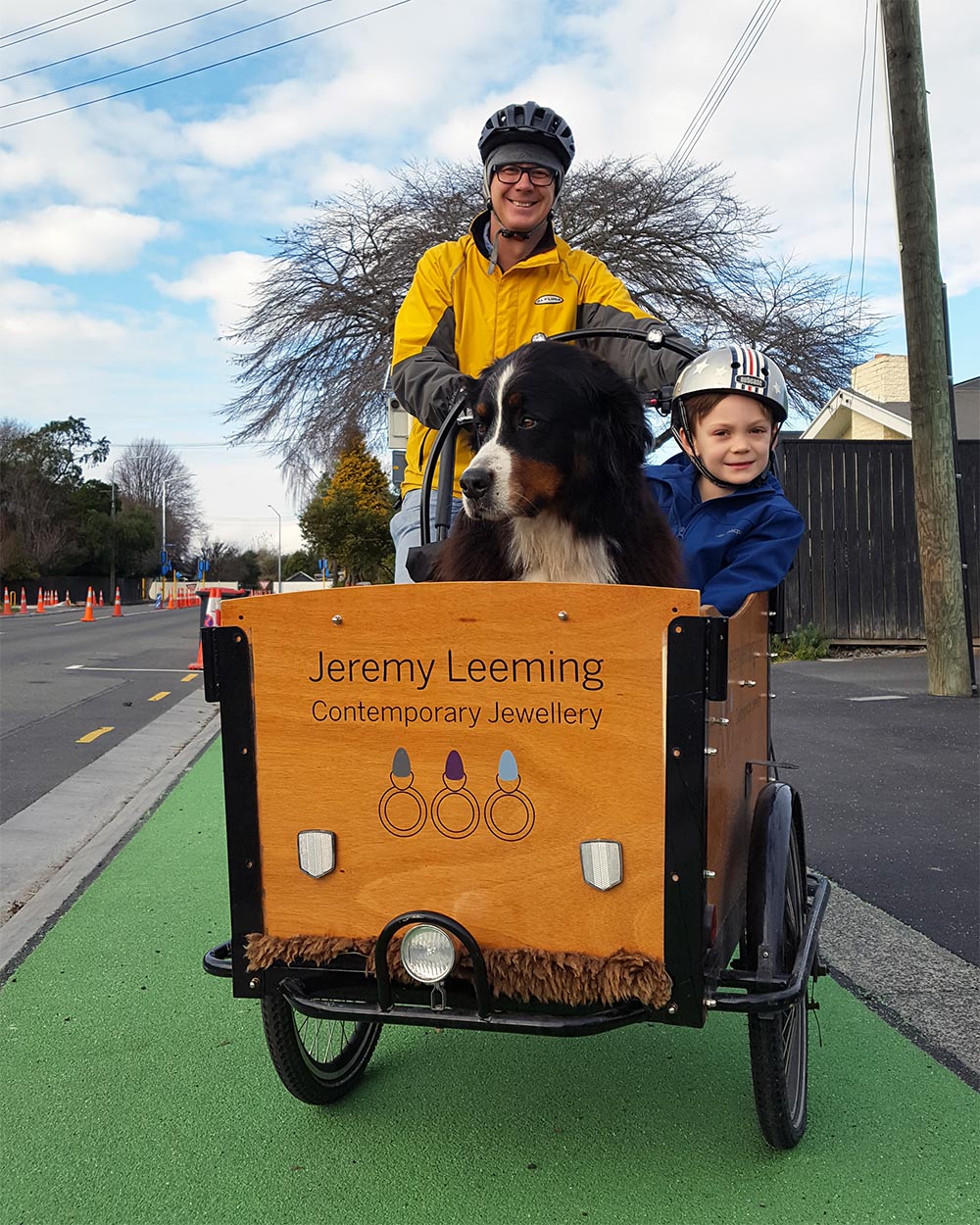 3 months after we converted our customer Jeremy's cargo bike to electric, he hasn't missed a day on his bike. We caught up with him to see how much he has been enjoying it and a little bit about the new Papanui Parallel cycleway that runs past his house.
Since November 2016, Action Bicycle Club have been running a Trial an Ebike programme to help Christchurch residents get acquainted with electric bikes, with the hope that more people will consider cycling as an option to get to and from work each day.
One such participant, Jeremy Lemming took the trial in November of last year. He was moving his business across town and wanted to avoid having to drive each day from St Albans to the Tannery. By participating in the trial he would be able to evaluate whether an electric bike would suit his needs and it did. Jeremy went on to convert his existing cargo bike to electric with one of Action Bicycle Club's ebike conversion kits.
Having an electric drive system is particularly handy when it comes to carrying more load than yourself. We weren't surprised to hear that 3 months after converting his cargo bike to electric, Jeremy hasn't missed a day commuting to work on his bike. We caught up with him to see how much he has been enjoying it and a little bit about the new Papanui Parallel cycleway that runs past his house.
"I had my eye on getting a cargo bike when I moved my Jewellery business to the Tannery in Woolston earlier this year. Luckily one came up on Trade-me that had been kept very well, in storage for several years. As a 7 speed manual cargo bike it was fine for going relatively short distances with a reasonable load. Say under 5kms would be fine. However my 45kg Bernese Mountain Dog, Ruby changes things. Ruby has always been a working companion and I wanted to keep it that way without having to drive to Woolston every day.
After asking around a few bike geeks about electrics, it was only after speaking with Charlotte and Ken at Action Bicycle Club that I was convinced that converting to electric was the way to go.
Ken did a great job and the commute from St Albans to Woolston is a breeze, even in a head wind. I still feel like I get a little exercise especially if I dial down the pedal assist. We don't go at crazy speeds but the electric motor allows me to ride the 9kms to The Tannery without arriving a hot and sweaty mess!
What made this an even clearer decision was that the new Papanui Parallel was being built right outside our gate. We hop on the new cycle lane and ride most of the way into the centre of the city on the new cycleway and its fantastic. It feels so much safer and it also makes you feel like you have been considered as a cyclist and road user.
We have such a perfect flat city for cycling, it feels so good to get out there with others on the road. Here's to a great spring and summer riding on the new cycle ways."
---
THE CARGO BIKE CONVERSION IN DETAIL
---
Jeremy's cargo bike's conversion had its challenges. In particular, since the precious cargo he carries are his child and his pet Bernese mountain dog Ruby, Jeremy was insistent on having braking for both the front wheels as well as strong braking for the rear wheel. The bike frame did not come with any mounts on the rear stays for installing any kind of brakes since the original set up was 2 levers for the front brakes and a coaster (back pedal) braking on a rear Shimano Nexus hub. After trying to resolve this issues with other bike stores, Jeremy came to us and we didn't want to let him down.
---
While we were very confident that the eZee 700c rear wheel conversion kit with rear carrier battery mount would do the job for providing the electric assist, we had to find a good solution for the brakes. We came up with using a 
Problem Solvers
 double barrel brake lever to pull both front brakes and found an aftermarket universal disc brake mount adaptor and machined it to fit the stay of the cargo bike. Voila. We're now able to fit a quality hydraulic disc brake with a 180mm rotor for the rear motor wheel.
Want to convert your bike? Come and visit us.